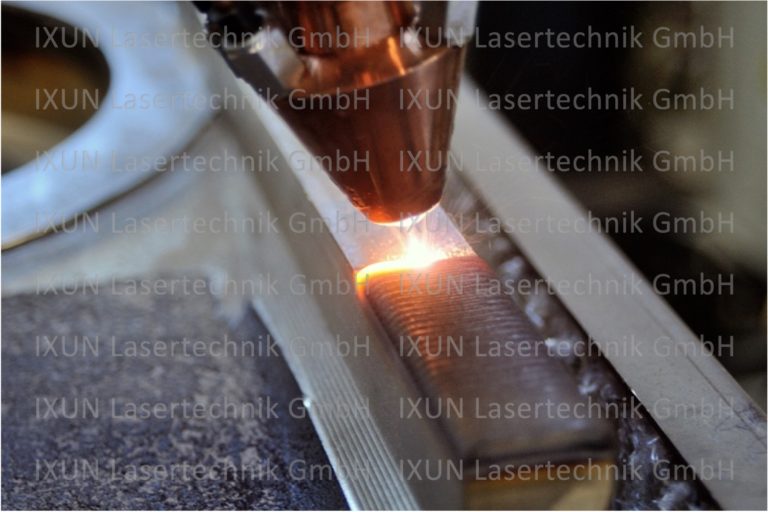 Welcome to IXUN Laser Technology GmbH
Your Partner for Maintenance, Wear and Corrosion Protection
Laser technology offers a variety of possible applications. There is no other technology which is able to repair components as precisely as laser technology does. In addition, laser technology stands out for its possibility to not only repair components but also to protect them against wear and corrosion. Thanks to its know-how and its wealth of experience in surface processing with laser radiation IXUN Laser Technology GmbH is a specialist in this sector. IXUN Laser Technology GmbH offers individual solutions for the processing of single- and series components and on top offers the production of customized processing heads for industrial applications.

Additionally, IXUN Laser Technology GmbH develops and delivers laser optics, powder- and protective gas nozzles for the processing of external and internal contours for all laser beam sources. Hence, IXUN Laser Technology is able to respond to the individual customers´ wishes.
IXUN is expert in the field of surface processing with laser
IXUN Laser Technology GmbH was founded in January 2011 as a spin-off of the Fraunhofer Institute for Laser Technology ILT by Dr.-Ing. Khudaverdi Karimov.

Dr.-Ing. Khudaverdi Karimov received his doctorate from RWTH Aachen University in April 2005. The topic of his PhD was "The development and qualification of inner processing heads for laser cladding". Since January 2011, he has been the owner and managing director of IXUN Laser Technology GmbH.

The laser offers a wide range of possibilities for the precise repair as well as wear and corrosion protection of components which cannot be realized with any other technology.


Welcome to IXUN Laser Technology GmbH
Roermonder Str. 153 | 52072 Aachen
MO-FR 08:30 - 17:30